On the morning of Saturday the 20th, Foco Girls Gone Derby started their mass exodus from their home of Fort Collins to the quiet mountain town of Salida, CO for a much anticipated double-header. The Foco Microbruisers were playing against the Ark Valley High Rollers, a team that has vastly improved within the last year. The Punchy Brewsters also came to take on the Continental Dividers, Ark Valley's B team. The Microbruisers had taken on the High Rollers Twice before, but it had resulted in 1 loss and 1 win. Both teams were eager to see who would take home the trophy and finally settle the score.
The first half was as exciting as they come. Both teams came on the track ready to rumble, and although Ark Valley pulled ahead, the Microbruisers weren't far behind. Jammers for both teams were fighting hard to get through the back, and the pack was moving
fast
. Foco had remained a steady 30 points behind Ark Valley when one of our star jammers pulled her quad. Everyone was devastated, but we pulled together and started a new jammer rotation, including some blockers that hadn't jammed in a long time. Once we decided to play to our strengths and stay conservative, we found ourselves climbing back. The second half was even more exciting than the first, and Foco managed to put more points on the board than Ark. It was an intense bout, but ultimately Ark Valley won by just a few points.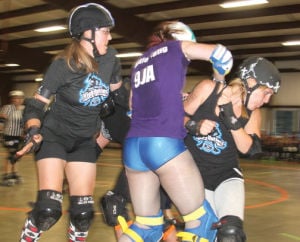 The Punchy Brewsters came out to win as well. With each jam they started strong and were incredibly focused. For some of our girls, this was their first bout and believe me, they did us proud. The Punchies and the Continental Dividers had equal lead jams, but Ark Valley managed to score some killer power jams that racked those points up. We're very proud of our Suzy Muffin-Crusher and Pootie Tang that took away the MVP awards that night for Punchies, as well as Jersey Justice and Suga Smaxxx for the Microbruisers.
Although we didn't win, it's always a pleasure going to Salida to play the Ark Valley High Rollers. These ladies remain the nicest, classiest, and most interesting team we have ever played. They all have incredible attitudes, outstanding sportswoman-like conduct, and their smiling faces are always so welcoming and friendly (they also know how to party, I'm talking about you, RAD!) We appreciate the relationship we have with them and hope to keep the competition fierce in the future!